(本文刊发于《中国经济周刊》2019年第6期)
CEW Editorial
P03| Only when the bull market is stable can it reach a far-reaching goal
Cover Story
P14| The initial heart of Kechuang Board: building hard core of China's Economy
Special Report
P28| Premier Li Keqiang delivered a keynote speech at the opening ceremony of the Boao Forum for Asia on Thursday
P34| "Mine clearance" of local implicit debt
P42| Haikou sewage treatment plant siting controversy
Innovation Example
P47| Propylene oxide from hydrogen peroxide
Pictures
P50| Vitalizing the countryside in the new spring
Macro&Policy
P54| Steady Growth in 2019: Infrastructure is still the focus, and new types of infrastructure are being developed everywhere
P56| Basic pension for retirees has increased by about 5% this year
Finance&Capital
P58| Rescue funds are exploited and Hongyu New Materials is involved in it
Industry&Company
P60| "Dream Broken" Renrenche in bankrupt, layoffs rumors
P62| Adjusting price 6 times a year, and what will Tesla do?
P64| Xu Heyi, Chairman of Beijing Motor Group: our latest power conversion technology takes only 30 seconds
P66| Electronic cigarettes, new favourite of capitals without supervision?
P70| Another year of snow economy
Region&City
P76| Interview with Hu Haifeng, Secretary of the Lishui Municipal Party Committee: Urban development needs "face value", "physique" and "the strongest brain".
P79| Interview with Ling Yun, Mayor of Hefei City: Hefei meets the major opportunity of the Yangtze River Delta
P81| Interview with Mayor Liu Yi of Jiangmen City: Grasp the golden opportunities for the Construction of Guangdong-Hong Kong-Macao Greater Bay Area
P83| The integrated planning of Tongzhou and the three counties will be launched
P86| Dinghu helps tens of thousands of people in poverty-stricken counties get rid of poverty
Economy&Law
P88| The evil forces of leaders, key members and the" protective umbrella" of mafia-like gangs shall be firmly sentenced to severe punishment according to law
Opinions
P93| Adhere to high-quality finance
P99| Emphasizing the development of platform-based headquarters economy
P102| Constructing the ecosystem of innovation and entrepreneurship services with high-quality development
P105| Predicting the demand of RMB through economic fundamentals
P108| How to land house prices softly
Column
P110| Be vigilant against the economic risk under the three kinds of relaxed environment
---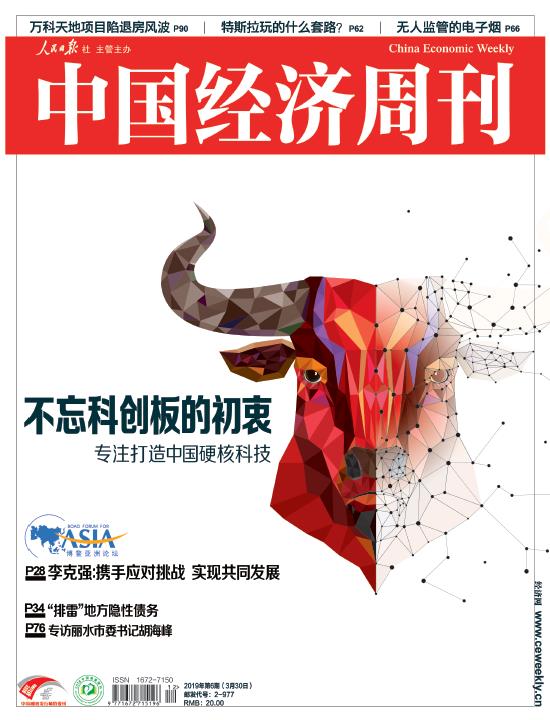 2019年第6期《中国经济周刊》封面