(本文刊发于《中国经济周刊》2016年第37期)
CEW Editorial
P03| The issue of state-owned enterprise reform
Cover Story
P16|With cell phones playing an increasingly large role in people's daily lives, they are also being linked to a growing number of crimes.
Special Report
P24| An investigation into Lvliang bypass expressway
People
P28| The fall of Huang Xingguo
PPP Report
P31| Nanxiang's application of PPP model in building a sewage treatment plant
Poverty Alleviation Column
P36| Anhui Province's practice of accelerating the work of eliminating poverty
P39| An exclusive interview of Chen Peng, director of Anhui provincial rural credit cooperative union
P42| Xiushan Tujia and Miao Autonomous County's practice of promoting targeted poverty alleviation through e-commerce
Science and Technology Innovation
P45| Pilot projects of drug registration and production in Shanghai
Pictures
P48| Addressing overcapacity in the coal industry
Macro&Policy
P52| Could housing fund be used to compensate endowment insurance fund?
Finance&Capital
P55| Relisting remains tough
P58| Will there be a feud about DEEJ between Baoneng Group and China Resources?
Exclusives
P60| Primavera and Ant Financial dunk $460 million into Yum China
Industry&Company
P62| Pan Shiyi starts doing property sales
P64| The prospect of self-driving cars
P66| Zoomlion explores European markets
P69| Will audiobook market be profitable?
P71| Postal Savings Bank of China has listed in Hong Kong
P73| Qiu Hongjun: exploring rare earth industry
P75| Trends analysis on China's convenience foods industry
Region&City
P76| Wuxi: inheritance of craftsmanship
P80| Luoyang Pang village: entrepreneurs return to their home village to develop steel furniture industry
International
P82| Theresa May's first China visit
Opinion
P84| Negative interest rates in Europe
P85| An analysis of the fiscal law
Reading
P86| The Era of Intelligence
————————————————————————————————————————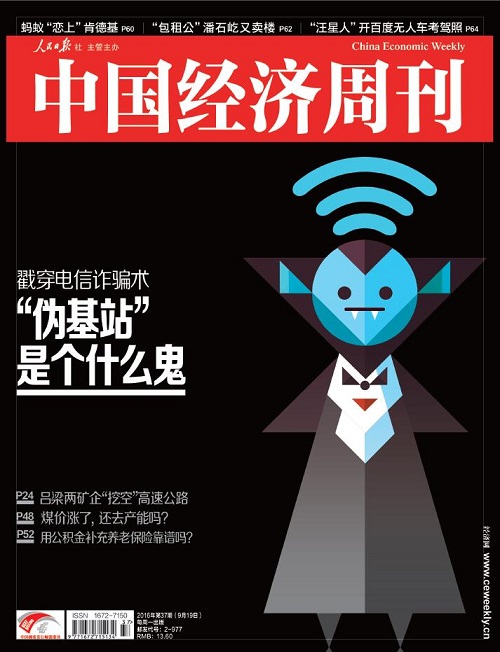 2016年第37期《中国经济周刊》封面