CEW Editorial
P03| Potent A-share delisting rules should be carried out
Cover Story
P16| An exploration of the reasons for the low-paced reform of state-owned enterprises
Special Report
P26| The successful economic development in Tumen River area
P30| The reorganization of Chinese officials at ministerial level
People
P34| Theresa May becomes Britain's second female Prime Minister
P37| David Cameron left 10 Downing Street
P38| Christine Lagarde: the managing Director of the International Monetary Fund
P41| SWOTO: engaging in the research and the development on professional protective uniform and its protection
Pictures
P44| Hailong shopping mall has officially closed down
Macro&Policy
P48| Property tax law will be possibly passed next year?
Economy&Law
P52| Chinese and foreign sporting goods companies fight over trademark rights
Finance&Capital
P54| The passing rate of private placement projects has sharply decreased
P56| The CIRC has approved ten public companies' applications for the setting up of insurance companies in the first half of 2016
P58| Former executives of Shanghai Kuailu Investment Group are chased by the company for paying their debts
Industry&Company
P60| Illegal online football gambling is a common phenomenon during the European Football Championship 2016
P62| Ji Xiaohua: the founding CEO of Guokr.com
P64| Can the so-called "magic potato juice" treat cancer?
Region&City
P67| Zhangjiagang Xinyi Chemical Company Limited deals with hazardous waste illegally
P70| Taizhou City's new model of trademark right pledged loans
International
P73| Spencer Dale: the group chief economist of BP
Opinion
P75| The People's Bank of China should promote supply-side structural reform in financial sector
P76| Israel has succeeded in developing national cyberspace security
P80| How to make a comprehensive understanding of local government debt risks?
Reading
P83| Miyauchi Yoshihiko: the senior chairman of ORIX Group
Column
P85| VR should not be over hyped in China's capital market
P86| A detailed classification of cadres
————————————————————————————————————————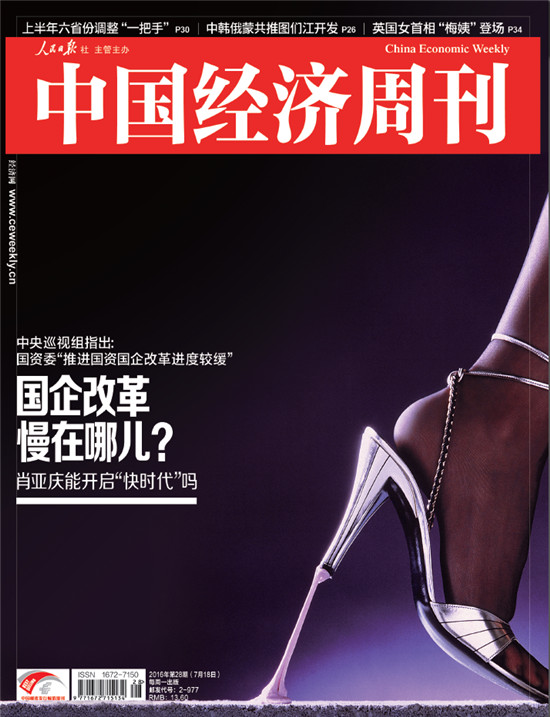 2016年第28期《中国经济周刊》封面