CEW Editorial
P03| Increasing utilization is important for the protection of arable land
Cover Story
P16| An interpretation of the 2015 auditing report
Special Report
P28| A summary of the "tigers" (senior officials charged with corruption) who have shown the action of counter-investigation
China Economic Forum
P33| Will China Vanke, Baoneng Group and China Resources achieve all-win outcomes?
People
P36| Tu Guangshao became the third general manager of China Investment Corporation
P38| Lei Jun: the founding CEO of Xiaomi
P40| How a poverty relief project broke down?
Pictures
P44| Anti-flood rescue
Macro&Policy
P48| The number of China's population may decrease to one billion by the end of the 21st century
P51| The April-June quarterly report of PPP integrated information platform project library
Finance&Capital
P56| The semi-annual report of IPO in A-share market
P58| Three banks in Shanghai have published their pilot programs of venture loan
P60| REITs gain popularity
Industry&Company
P62| A strategic restructuring of China's major steelmakers
P64| Yao Jinbo strives to develop the online flea market
P66| Song Chunyu explains the plan for further development of Lenovo Capital and Incubator Group
P68| 5G and Internet of Things are highlights in Mobile World Congress 2016
P71| The operational model of China Huishan Dairy Holdings Company Limited
International
P72| Expanded Panama Canal's economic benefits
P74| China and Poland develop economic relations
Opinion
P77| Alan Greenspan reaffirms the gold standard
P78| Misunderstandings in promoting ecological progress
Column
P82| Legal fairness should not be broken
P85| Rival tea makers wage war over intellectual property
P87| Why private investment suffers a decrease?
————————————————————————————————————————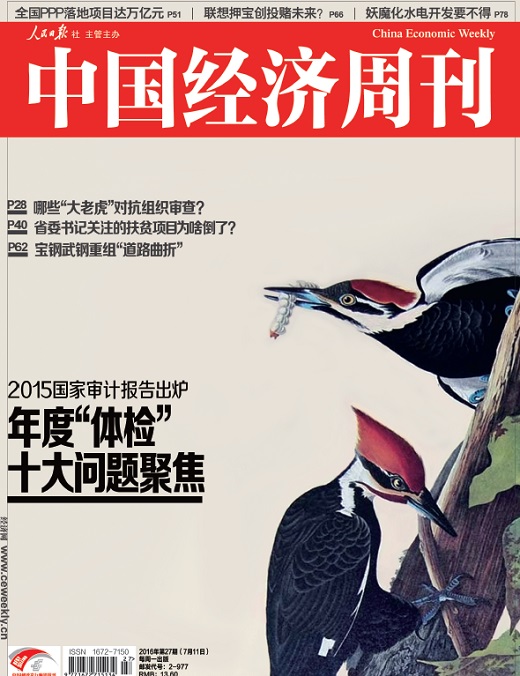 2016年第27期《中国经济周刊》封面