CEW Editorial
P03| MSCI should be treated calmly
Cover Story
P16| 2016 World Economic Forum
China Economic Forum
P40| Chinese enterprises' cross-border mergers and acquisitions increase
P42| The case of targeted poverty alleviation in Ruijin
P45| Dai Jialong takes efforts to produce the finest graphene
Pictures
P48| Gun control, homosexuality and anti-terrorism
Macro&Policy
P52| A data analysis of civil servants in China
P55| What leads to the decrease of private investment?
Finance&Capital
P60| The huge income gap among employees of Jiangsu Yanghe Distillery
P64| The influences of the Internet finance regulation scheme on third-party payment
Industry&Company
P66| Grundfos: the world's largest pump manufacturer
P68| The strategic reorganization of China Minmetals Corporation and China Metallurgical Group Corporation
P70| Zhang Dou: the founder of YinYueTai
P72| What will the development of artificial intelligence bring about?
Region&City
P74| Shanghai's practice of unmanned driving technology
International
P76| China's steel enterprises are caught in a trap of trade war
P78| An exclusive interview of American super real estate agents
Opinion
P81| Addressing overcapacity in financial sector
Column
P82| Emergency lanes should not be occupied
P84| What is the proper business model for Internet economy?
P85| Domestic home prices will keep rising
P86| Students' various plans after graduation
————————————————————————————————————————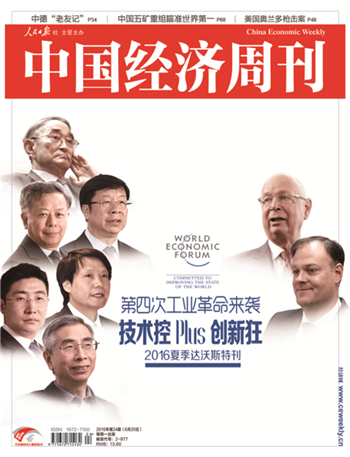 2016年第24期《中国经济周刊》封面