(本文刊发于《中国经济周刊》2019年第9期)
CEW Editorial
P03| Government Investment Ordinance clearly delimits government functions
Cover Story
P14| Watch out for real estate finance evolving into gray rhinoceros
Special Report
P26| Behind Qin Guangrong's voluntary surrender
P30| Midfield war in rights defense case to Mercedes-Benz's: Counterattack by the automobile industry
P34| Villas on the Huangpu River in Shanghai
P38| Beijing World Garden Expo
P46| Controversial candidate academician Robin Li
People
P50| Ten months after his comeback, Chen Feng talked about the Haihang's reform again
Macro&Policy
P54| According to the Green Paper, 51% of the rural population are employed by migrant workers in cities and towns.
P57| These big cities will lift the residence restrictions
Finance&Capital
P59| The grade sheet of Gree Electric in 2018 was released
P60| Ophiguang was seriously questioned about the "financial bath"
P62| Pursue Pharmaceutical
P65| See also "demon stock": 14 increase in 19 days!
P66| Le Video Network has been suspended from listing
P68| Ask Taihe again: How did the sales of 200 billion yuan complete?
P70| J.P. Morgan: It is expected that $150 billion will flow into A shares by March next year
P72| Xu Zhong transferred to the Traders Association, the 74 trillion-yuan bond market
Industry&Company
P76| Guangzhou cosmetics industry in the shadow of fake goods
P79| Maotai's Shuffle
P82| BAT's "lane warfare" in small procedure
P84| Musk: Fighting with Panasonic for batteries
P88| Happiness in China has entered an era of peace and security
P90| Vacuum cleaner war: Who can harvest the hearts of consumers?
P92| Ziroom's "Formaldehyde Gate" has not been finalized: Many cases were convicted of breach of contract
Region&City
P95| Housing enterprises in Hainan "bulged up their pockets, destroyed the ecology", how to explain?
P98| Tariff increases hurt the U.S. economy
Opinions
P100| Expected management needs " being garrulous"
Column
P101| To solve the problem of financing difficulty and expensive financing, we must work together in a multi-pronged way
P104| What kind of business environment do enterprises need?
Services
P106| Paul Walker, former chairman of the Federal Reserve: Consciousness and responsibility of an old man
P108| 14 years of Art Beijing
P110| "Artificial Meat" comes out: Capital mania and consumers' worry
---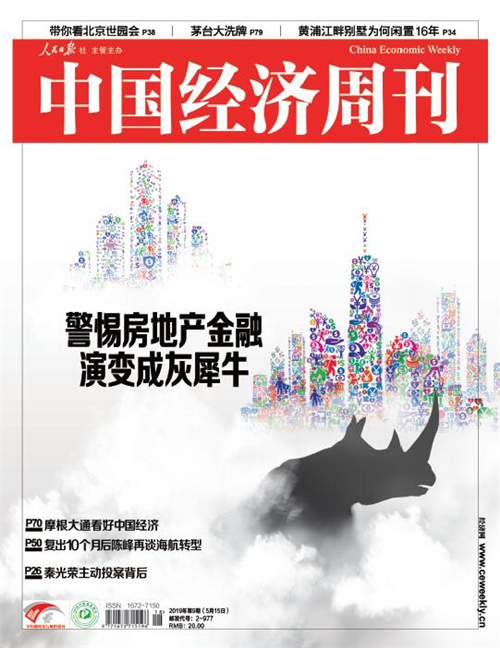 2019年第9期《中国经济周刊》封面